TFT Video Module - CMOS Camera Module
Go to Camera Module
TFT LCD Modules - 5 inch Colour High Quality OEM Module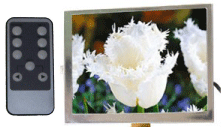 These LCD TFT colour modules are OEM (original equipment manufacturer) modules and require mounting in a panel/console/box/dashboard etc. Apart from that, all that's required to be fully operational is 12 volts DC and a standard 1 volt Peak to Peak composite video signal.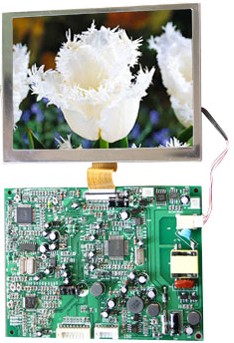 Some potential uses are:
Security surveillance monitor
Monitor for a video intercom system
Vehicle or marine reversing vision system (great for trucks)
Portable monitor for camera-in-model system ( aircraft; train, boat, etc)
Instrument panel where video image/display is required
Industrial process monitoring
Portable monitor for cavity/pipe inspection
TFTM5X Parameters / Features:
12 volt DC +/- 10% supply voltage
370mA +/- 10% supply current
4.44 Watts power consumption (nominal)
Surface Treatment - Anti-glare
Video Input - 1V PP composite (standard from A/V equipment)
Aspect Ratio - 4:3
Audio Amplifier - 1 watt (max)
Auto PAL/NTSC switching
On Screen Display (OSD) of menu settings
Reversible East-West scan via remote control (mirror image for rear-view type reversing monitor)
Environmental Parameters:
Operating Temp. -20°C to 60°C @ Relative Humidity 5 to 95%
Storage Temp. -25 to 70°C @ R. H ... 0 to 95%

W 120mm x H 91mm x D 22mm (overall)
Viewing Area ... 116mm x 78mm

Mounting and Further Detail:
A rectangular cut-out of approximately 110mm x 80mm is required in any panel through which the screen is viewed. The main circuit board is only temporarily attached to the screen via adhesive pads and can be separated easily so be careful. A small control panel circuit board (CPCB), which also has the infrared remote control receiving sensor on it, needs to be accommodated somewhere in the mounting scheme. The switches on the CPCB can be used in the absence of the remote control for some functions.
---
Camera Module - Versatile miniature Colour CMOS camera module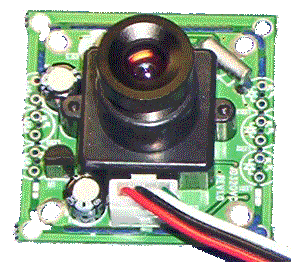 These colour CMOS camera modules are ready to go and only need a 12 volt supply and to be mounted into something. The lens is factory set for general use but is adjustable to give sharp focus and magnification suitable for inspection of small objects. Output is a standard PAL composite colour video signal.
Specifications
Image Sensor: 1/3" Omni Vision CMOS
Video Output: PAL 1 Volt P- P composite - 75 ohm
Pixels: 628 x 582
Horizontal Resolution: 420 TV line
S/N ratio: >40dB
Minimun light level: 0.1 LUX
Backlight compensation: Auto
Shutter: 1/60 - 1/1500s
White Balance: Auto
Gamma Correction: >0.45
Voltage/Current: 12 volts - 55mA
Operating Temperature: -20°C - +60°C
Lens: f 3.6mm
Focus Distance: <10mm to Infinity
Dimensions: 38mm x 38mm x 25mm
Video Out - standard in-line RCA socket
12 Volts In - standard 2.1mm in-line DC power socket (centre pin positive)
Some of the many uses are:
Vehicle / Boat reversing system* (see note)
Security camera
Video Intercom
Camera-in-model system
Super-cheap video camera when connected to VCR etc
Industrial process monitoring
Quality Assurance inspection system
*Note: It is usual for reversing systems to produce a mirror image on the screen to replicate a rear-view mirror image. These modules do not have reversible scan however, our 5 inch TFT colour monitor modules do. So, if you want to use this camera module in a reversing system, make sure the image is reversible on your monitor - such as the one we supply.